Expand your "Minds" at the 2020 Meeting of the Minds Conference by attending one of four great pre-conference workshops.  All pre-conference workshops run from 9:00 a.m. to 11:30 a.m. on Wednesday, March 25th at the Kellogg West Conference Center.
NOTE:  Registration for one of our pre-conference workshops is a separate sign-up and an additional fee and is not included in the cost of the general conference registration. Reserve your seat through one of the links below.
Pre-Conference Workshop:
Learn to Build & Leverage Predictive Donor Models to Maximize Your Fundraising Returns
with Lo DeJanvry, UC Berkeley
Want to learn more about mining your data and building and leveraging predictive donor models to maximize returns on your direct response marketing programs and leadership prospect outreach? Come to this hands-on pre-conference workshop, equipped with your own institution's data, to begin developing your own predictive donor models. And learn about how best to apply your models to advance your institution's fundraising returns to ensure the success of your next annual and comprehensive campaigns.

Laurent "Lo" de Janvry has been in higher education marketing and development for over a decade. He serves as Assistant Dean of College Relations & Development at the UC Berkeley College of Chemistry. Previously, as the Director of Strategic and Direct Marketing Services at UC Berkeley, he grew the university's annual giving department to provide direct response marketing, market research, and data mining-modeling services campus-wide. Lo has presented at numerous regional, national, and international conferences, and consulted universities on the utilization of market research and data mining-modeling to enhance their marketing, development, and alumni relations programs. Lo has his undergraduate degree in Economics from the University of California at Berkeley, and his MBA from the University of Southern California Marshall School of Business. Before entering higher education, he worked in the private sector in marketing, brand strategy, and operational consulting for Arthur Andersen, Mars & Company, Del Monte Foods, and Prophet Brand Strategy.
This workshop fee is $60.
Register for this pre-conference workshop here.
Pre-Conference Workshop:
Advancement Services Nuts & Bolts:
Core Gift Acceptance Issues
with John Taylor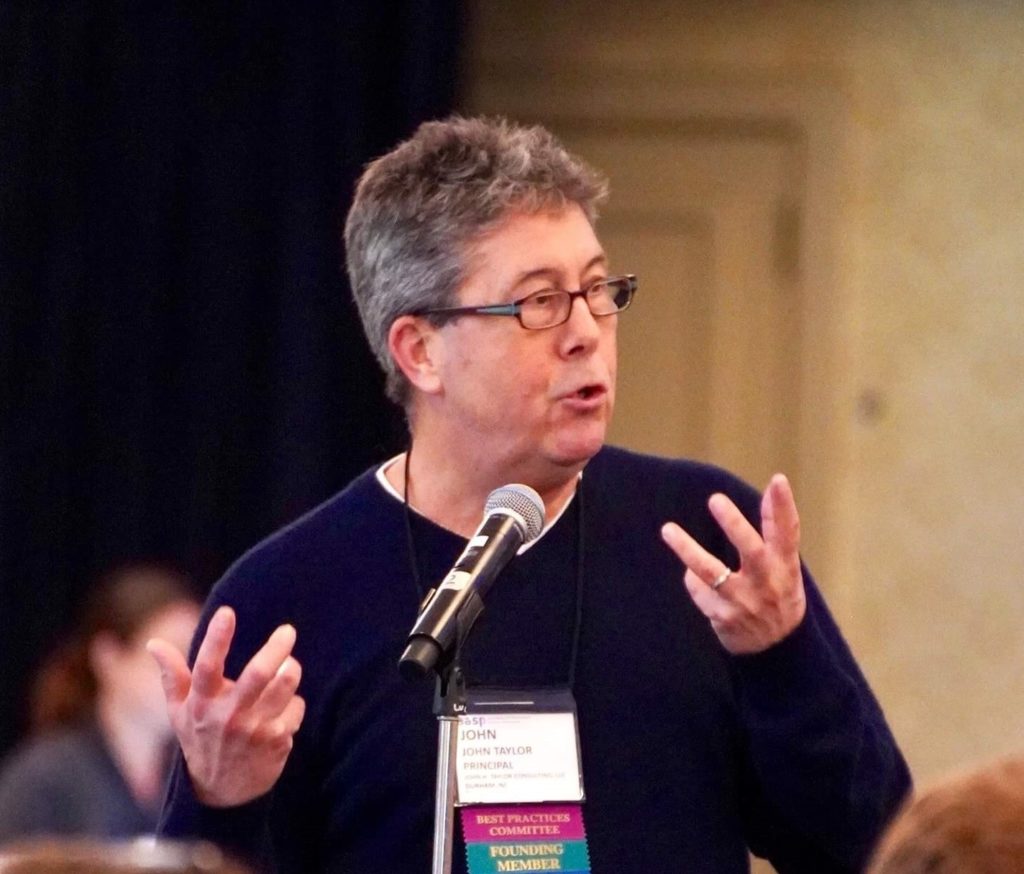 This workshop is designed to dive well into the weeds of gift acceptance and processing. The primary focus area will be around IRS regulations, flavored by CASE guidelines regarding what counts and what doesn't count. Specifically, this session will cover some of the new issues raised by Congress. This will include an update on the Tax Cuts & Jobs Act, including the impact on charitable giving due to the increase in the standard deduction. We will also explore what revocation of the 80/20 rule pertaining to seating priority means for athletics – and all other seating applications. We will then look at such topics as quid pro quo, and gift dates. We will dabble in DAF and Family Foundation issues but those will be explored more fully during a regular MOTM session. There will be discussions on donor control, scholarships, common gift myths, auctions, sponsorships, and special events. Half of our time, however, will revolve around acceptance of non-cash gifts – pretty much everything we didn't expect a donor might gift, but does! Increasingly donors are attempting to donate unique, and not always desired, forms of non-cash gifts. This session will focus on establishment of protocol and policy to facilitate acceptance – or rejection – of these gifts. We'll discuss the importance of a Gift Acceptance Committee and a Gift Acceptance Policy. We'll look at gifts of securities, as well as the IRS concern regarding related versus unrelated gifts of property. And then we'll do a lightning round covering a dozen or so other forms of non-standard gifts – including cryptocurrency!
This workshop fee is $60.
Register for this pre-conference workshop here.
An Introduction to Annual Giving:
Your Digital Millennial Personal Multi-Channel Participation Pyramid
with Bob Burdenski
This annual giving orientation is ideal for new members of the team (or those in need of a refresher). What do pipelines, pyramids, "the wave," Starbucks, Cheerios, and Michael Bloomberg all have to do with annual giving and a broad base of support? Bob will provide an overview of the institutional reasons for annual giving, the fundraising channels in-use today, case for support messages that resonate (and with which audiences), and the metrics that define annual giving success.It's been twenty years since Bob wrote his first "Innovations in Annual Giving" book for CASE. Much has changed since, but much remains the same. Bob has provided an introduction to annual giving at CASE fundraising institutes for more than a decade. Come and get your annual giving overview — a great foundation for the conference sessions that will follow!
This workshop fee is $60.
Register for this pre-conference workshop here.
Pre-Conference Workshop
Communication: Your Access to Personal Power,
Team Engagement, and Results!
with Marisa Szem-Stafford, M.S., Management and Leadership Coach
If there were a way to have your communication be more effective with your donors and your staff, you'd want to know about it, wouldn't you??Well, look no further. In this professional development offering, we will engage your hearts and minds by exploring 3 specific behaviors and 4 thinking preferences that deepen your self-awareness and your awareness of others. No longer will you be confused as to why your donors and staff says what they say or takes the actions they take. Building on that foundation, you will leave the workshop in action, producing breakthroughs that expand your effectiveness.

In this course, grounded in neuroscience, participants will leave:
a. Having discovered why, with some people, your communication hasn't produced the results you desire.
b. Having learned the types of thinking and ways of behaving that energize you.
c. With your personal profile and actions to take that will manage your energy more effectively to produce greater results.
d. Learning how to create "whole brained" teams for project work and fundraising.
e. Practiced in the platinum rule of treating others the way they want to be treated.
f. Being able to share with your teams about how each person can manage their own energy to achieve higher team cohesion, productivity, and results.
Note: There are elements of this workshop that must be completed before the Meeting of the Minds Conference. Here are the steps:
a. Register for the workshop. The deadline to register for this session is March 12th.
b. After registering, you'll receive an e-mail with instructions on how to complete an online personal profile (within 24 hours).
c. Attend a 75-minute webinar two weeks prior to the live session. Scheduled for Friday, March 13th 9 am – 10:15 am (PST)
d. Attend the pre-conference two-hour live session at the Meeting of the Minds at Cal Poly Pomona.
e. Schedule a 30-minute post communication with Marisa for additional coaching (if desired).
Marisa Szem-Stafford is a high-energy executive who applies her 20 years of Training and Operational Management experience to coaching and developing leaders. Her professional background at companies like Hilton Hotels Corporation and HealthCare Partners gives her the business acumen to coach business leaders from various industries.
As a Senior Director of Learning and Talent Development for the Americas at Hilton Hotels Corporation, Marisa led an international team that supported the workforce needs for 50,000 team members. She facilitated training and development programs to enhance the ability of leaders to bring high-quality talent into the organization and manage and lead their teams. Accountable for performance management, Marisa led the creation and implementation of a new performance review process for 100,000 team members. She also created and implemented a talent development and succession management strategy to grow the future leaders of the organization internally which is still being used today.
Marisa has been working and coaching for over fifteen years in a variety of companies such as HealthCare Partners, Participant Media, Riot Games, UCLA and California State University (including Cal Poly Pomona). She is certified in various assessment and development tools, including Emergenetics, Lominger's 360-degree feedback tool, and the Achieve Global Leadership curriculum. She is a highly effective facilitator who has created and presented development and team building curriculums for first-time managers to senior executives at fortune 500 companies.
This workshop fee is $250.
Register for this pre-conference workshop here.